11:25
KEEP CLOSED AT ALL TIMES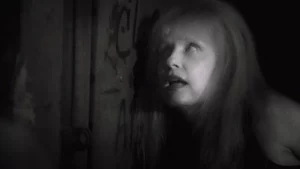 Country: United States Runtime: 1:11
In the depths of the basement, lurks something terrible, something horrifying, something awful… Don't open the door: Keep Closed At All Times! Starring Linnea Quigley (Return of the Living Dead, Silent Night, Deadly Night, Night of the Demons).
Country: Italy Runtime: 6:45
It's Christmas Eve, and a young man manages to get a tree to put up at the last minute. But that same night he will come face to face with a stark truth: What you own ends up owning you.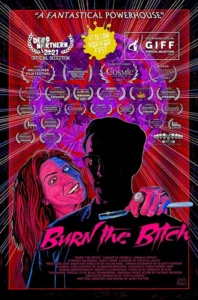 Country: United Kingdom Runtime: 15:02
Rob is dragged out of his familiar comfort zone to a concert, and as the universe works in strange ways, he meets the girl of his dreams. He meets Daria, a dark and mysterious Italian girl. An unlikely pairing but nevertheless, Rob and Daria strike up a loving relationship and share their polarizing cultures with each other. Whether it was his severe case of being ordinary or just blinded by love, unknown to Rob, Daria holds a secret about herself Rob may not be ready to comprehend. Burn the Bitch is a romantic comedy horror serving as a revisionist love letter to the films of Dario Argento and Mario Bava.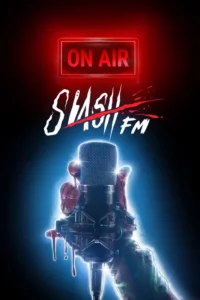 Country: United States Runtime: 01:22:00
A radio show by Count Slashula at 'Slash FM', on a Halloween Night, will be presenting and warning viewers about the creepy stories they are about to watch, involving death, blood and some laughs. (inspired by Creepshow and Body Bags)
1:10
SLASH-O-LANTERN part ii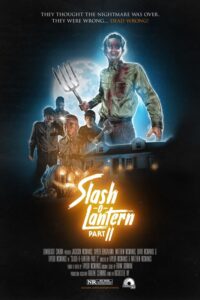 Country: United States Runtime: 9:00
Kevin and James deal with the aftermath of their brush with death on Halloween night. As Hazel Falls P.D. arrive on the scene, they quickly realize the nightmare isn't over just yet.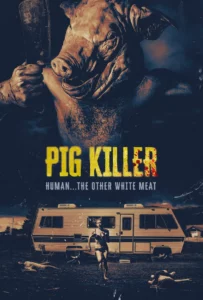 Country: USA Runtime: 02:00:00
Based on the terrifying true story of Robert 'Willy' Pickton, the pig farmer cum prolific ladykiller whose horrific crimes shocked the world. PIG KILLER graphically depicts Pickton's felonious farmhouse of rape, torture, slaughter and dismemberment of almost fifty women. With his herculean hog, Balthazar, by his side, Willy and his menagerie of colorful cohorts terrorized Vancouver's Downtown Eastside for almost two decades until his 2002 arrest that uncovered the most bizarre series of murders Canada has ever seen.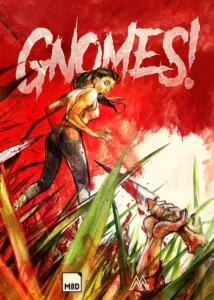 Country: Netherlands Runtime: 5:49
Unknowingly, a girl enters the habitat of a tribe of killer gnomes during her daily run. Lured by mysterious glowing mushrooms, she'll soon wish she'd stayed on her usual tracks…
3:56
ARCHIBALD'S SYNDROME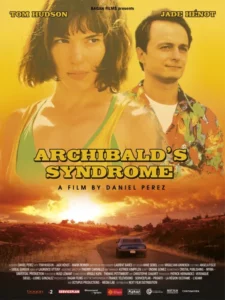 Country: France Runtime: 00:20:00:00
Archibald was born with some curious curse: he can't make a move without everyone around doing the same.Now, grown man, he robs by despair a bank and, there, meets Indiana, a young woman who always escaped every form of control.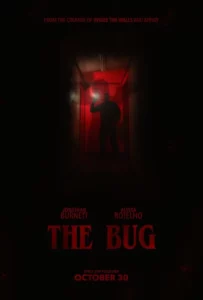 Country: United States Runtime: 8:04
An Editor's night of work turns to terror as his project file encounters a horrific and deadly bug.
Country: Australia Runtime: 8:50
A young bookstore owner accidentally unleashes a demonic creature who takes the form of a famous children's book character.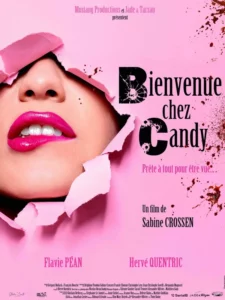 Country: France Runtime: 13:37
Like in a fairy tale, it only took one glance for Etienne to fall head over heels in love with Candy. When she invites him home for a drink, he discovers that this pretty influencer with a vivid imagination, did not invite him just by chance. But is Etienne ready to play Candy's strange little game?
Info To Come At Screening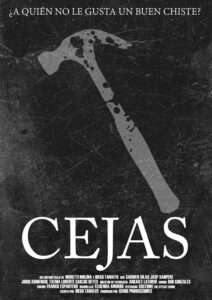 Country: Spain Runtime: 14:00
A woman wakes up chained, in a creepy basement. His kidnappers will offer him a curious deal, in exchange for his freedom.
5:27
DR. SAVILLE'S HORROR SHOW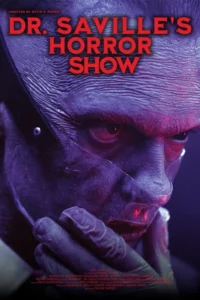 Country: United States Runtime: 01:36:10
Dr. Saville's Horror Show is a horror anthology hosted by the devious and sinister Dr. Saville. As he tortures his latest victim, he weaves together three dark and twisted stories. "Consume' – A bride-to-be takes drastic actions before her wedding day when she swallows a bioengineered tapeworm to help with her weight loss-goals. "It's Complicated" – A picky bachelor awakes to find the woman of his dreams curled up on his kitchen floor. As their whirlwind romance escalates, he finds a dark side to his new lover . "Break" – Barricaded in his home during an undead outbreak, a loving father struggles to keep his two children safe. However, the greatest threat to the family's chances of survival lies closer than the zombies clawing their way in.
11:25
MR. SNIP'EM CLIP'EM MAN
Country: United States Runtime: 2:00
A nightmarish lullaby becomes real.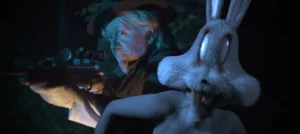 Country: Italy Runtime: 4:38
Elmer Fudd, after killing Duffy Duck, decides to enter the woods to search for Bugs Bunny. Here he will not find the bunny that we all know about, but a creepier and nastier version of it. Who will triumph?
11:32
VIDEO SHOP TALES OF TERROR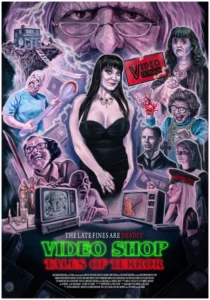 Country: United Kingdom Runtime: 01:56:00
A sinister video shop holds the key to a collection of terrifying VHS related tales, told by a collective of the best UK indie horror filmmakers including MJ Dixon (Pandamonium), Michael Fausti (Exit), Andrew Elias (The Numbers), Tom Lee Rutter (Day of the Stranger), Sam Mason Bell (The Millenial Killer) & Alexander Churchyard (The Allotment). With fake trailers from Tony Mardon & Geoff Harmer.
Horror legends Dani Thompson (My Bloody Banjo), Laurence R. Harvey (The Human Centipede II) join the cast, along with Martin W Payne (Monstrous Disunion), Hannah Paterson (Horrorscopes: Vol 1), Ayvianna Snow (Vampire Virus), Annabella Rich (Hacker), Chris Mills (Terror at Black Tree Forest), Cy Henty (Cleaver: Rise of the Killer Clown), Eve Oliver (Mask of Thorn), Charlie Bond (Powertool Cheerleaders vs The Boyband of the Screeching Dead), James Hamer-Morton (Dead Air) & Glyn Angell (Tales From the Great War).
1:45
Jesus Motherf*cking Christ Trailer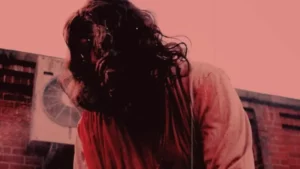 Country: United Kingdom Runtime: 2:29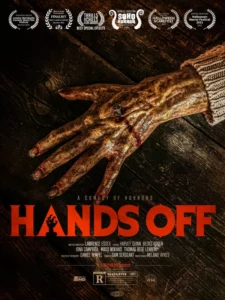 Country: United Kingdom Runtime: 8:02
A weekend away turns bloody for a social media influencer and her friends after one of them reads passages from a satanic tome. Possession, hack job amputations, and demonic entities, it's all content as far as she's concerned.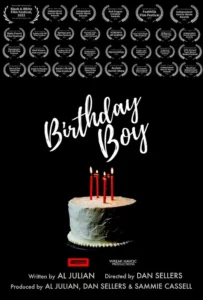 Country: United States Runtime: 9:42
An abusive dad gets his just desserts on his birthday.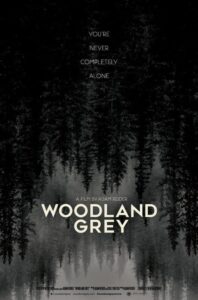 Country: Canada Runtime: 01:29:39
When a man living alone in the woods saves the life of a young woman, they are forced to coexist. Chaos ensues when the woman makes a terrifying discovery in the woods behind the man's home and unleashes something truly haunting.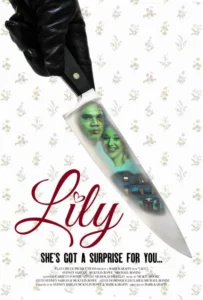 Country: United States Runtime: 18:22
On the night of their one year anniversary, Lily gives Owen a gift that will truly test their relationship. His name is Garrett. Set the table for three.
4:08
THE IRON SHEIK MASSACRE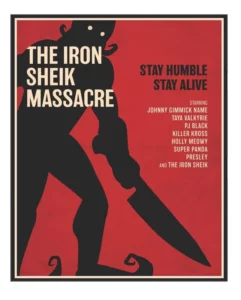 Country: United States Runtime: 00:23:50
A group of young professional wrestlers are roasting wrestling legend The Iron Sheik when lightning strikes their living room rendering a rare Iron Sheik action figure sentient. The awakened Iron Sheik doll hunts the disrespectful new school wrestlers down and makes them humble.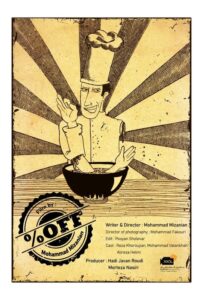 Country: Iran Runtime: 19:33
The sale of human flesh has become legal. Meanwhile, profiteers sell human meat underground. When the rookie butcher sees that the body he was amputating has been revived, he returns his amputated leg to him and let him to leave.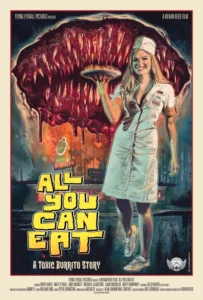 Country: United Kingdom Runtime: 13:00
A young waitress at a fast food diner has a bad feeling about things going on behind the chrome and neon facade of the diner. She finally believes she has the proof she needs to bring this secret to light, but unseen evil forces are unleashed in a blood thirsty attempt to stop her.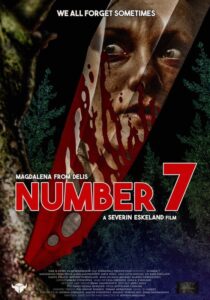 Country: Norway Runtime: 12:00
A woman wakes up in the woods all alone. After a while moving carefully through the thick forest, she trips and falls. When she turns around she looks into the eyes of a dead person.
What is her number?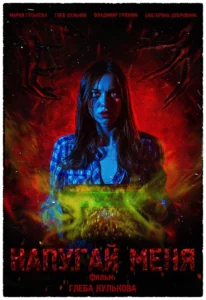 Country: Russian Federation Runtime: 16:55
After a whole evening of unsuccessful attempts to scare Olya, her boyfriend Dan suddenly disappears. The girl faces the question: is this another prank or is something sinister really happening?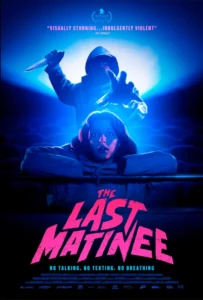 Country: Uruguay Runtime: 01:28:00
On a stormy night in Montevideo in 1993, an engineering student named Ana takes over the duties of her father, a projectionist at a declining movie theatre, due to his ill health. Unbeknownst to her, the audience watching the film that she is running are being murdered by a black-gloved killer.